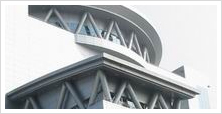 The company was founded in 2006. The marketing center is located in Daxing District, Beijing. The factory is built in Nanhai District, Foshan, Guangdong. It is dedicated to: Smart-minimalist and light luxury [panorama narrow sliding doors and windows. High-end product service providers, based on the principle of deep cultivation and stability, rather than indiscriminate, products are mainly based on superb luxury craftsmanship + automatic intelligent control, to serve high-end users.
Since 2006, he has been in the high-end customization of "shower room", and was honored to be a supplier of hardcover real estate projects in 2009.
Continuous development in 2011 [linked sliding doors, folding doors, movable partitions], adhere to independent research and development of track hardware systems, automatic intelligent product development.
In 2013, the sliding door style and craftsmanship were re-innovated, and the minimalist style "Panoramic Narrow Side-Sliding Doors and Windows" was developed, and the "inside doors 20mm and the outside doors and windows 32mm."
In 2015, the panoramic narrow-side sliding door was upgraded to "15% for inner doors and 23% for outer doors and windows". The quality process gradually became a model of imported technology, and the market positioned the high-end design luxury market.
In 2019, the third-generation 'extreme' series of ultra-narrow side sliding doors were launched, with a surface of only 6.8mm, reaching a new height of minimalist doors. In September 2019, Xi'an Shijia / XIYATH imported craft narrow side sliding door was successfully selected as the "Vanke Real Estate" high-end residential supplier.
In 2019, the R & D department successfully launched the electric intelligent narrow-side sunroof. At this point, the panoramic narrow-side indoor and outdoor doors and windows product chain is complete.
Originated from the Nordic panoramic narrow-side sliding door, the current technology has been imported into the brand. The indoor narrow-frame sliding door has no glass door and no glue strip, 8% thick tempered glass, from two linkages to three / four / five / six linkage. , Panoramic narrow side exterior doors and windows hollow double glass or triple glass, within 4 * 6m / fan, wind resistance 9th grade, watertight 6th grade, airtight 8th grade, soundproof 4th grade, heat preservation 6th grade, can be built-in electric sunshade, using straight Motor magnetic levitation door machine, magnetic levitation automatic track high-end, advanced, safe, smooth, reliable, small body, energy saving and environmental protection door machine driving equipment.
Folding door is divided into framed or unframed, broken bridge / non-broken bridge hollow or single glass, dimming and projection glass, electric / pure manual can be selected.
The soundproof movable partition has soft and hard bags, environmentally friendly paint-free decorative panel, framed or frameless, fully automatic / semi-automatic / pure manual can be selected.
The shower partition is mainly customized with high-end customization, mainly serving high-end residences, villas and houses, five-star hotels, and well-decorated buildings. There are electric atomization dimming, self-cleaning and explosion-proof, automatic door opening options, rich and practical and selective. .
100% soil-free fully intelligent hydroponic green planting wall, focusing on improving indoor air and environment: natural air purifier, natural oxygen bar, beautifying the environment, cultivating sentiment, regulating dryness and humidity, vertical greening on the wall does not take up space. Soil drip irrigation and hydroponics technology, imported substrates from the United States, ensure no pests, no pollution, strong vitality, and solve people's concerns about not growing flowers. Real fool-style cultivation, without manual management.
Xi Ya Shi Jia products have been adopted by domestic and foreign high-end projects such as commercial, office, residential and so on, and are sought after by the design industry and high-end consumers. The company and the international architectural decoration design and real estate enterprises have a close exchange and cooperation, continuously innovating products and services, The popularity of high-end smart healthy living will make greater contributions.